Rally for our Rights Take Back the Second Event Flyer
DENVER, Col. – -(AmmoLand.com)- Saturday, May 18th, 11am to 2pm, Rally for our Rights is hosting a TAKE BACK THE SECOND rally at the Colorado State Capitol.
This event has been in the works since the Colorado Legislature passed HB19-1177 "Red Flag" Emergency Risk Protection Orders ERPO.
Event speakers will include:
Evan Todd – Columbine High School Shooting survivor
Weld County Sheriff Steve Reams – leader in opposition to ERPO and Second Amendment Sanctuary Counties
Antonia Okafor – Black, Armed & Conservative and Founder of EmPOWERed
Robert Wareham – Recall Sheriff Tony Spurlock
Lesley Hollywood – Founder and Director of Rally for our Rights
and many more.
Event emcee will be Jimmy Lakey of 600 KCOL radio.
With the passage of Colorado's "Red Flag" gun confiscation bill, people are angry – and they should be. This unconstitutional and downright dangerous piece of legislation was opposed by citizens and law enforcement alike, while bill sponsors admitted it had nothing to do with mental health. Rally for our Right founder, Lesley Hollywood said, "The privileged politicians under the Golden Dome forced through this law knowing THEY will never have to enforce it. They do not care about law enforcement or gun owners lives, they only care about their agenda of taking away guns from those who have never committed a crime. They only care about their end goal of disarming citizens no matter the collateral damage."
Rally for our Rights organizers are asking participants to keep their partisan politics at home and focus on the issue at hand – protecting the Right to Keep and Bear Arms, emphasizing the Second Amendment is non-partisan.
[embedded content]
In conjunction with the rally, event hosts will be raising money for the Kendrick Castillo fund, honoring the brave hero who lost his life last week when two mentally disturbed students went on a violent rampage in their own school.
Those interested in attending can RSVP and learn more on Facebook at www.facebook.com/events/396917181159814 or at www.rallyforourrights.com. The event will also be live streamed to the Rally for our Rights Facebook page.
TAKE BACK THE SECOND will take place as follows:
Saturday, May 18, 2019
11am – 2pm
Colorado State Capitol – West Steps
200 E Colfax
Denver, CO
---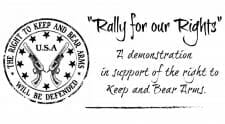 About Rally for our Rights
Rally for our Rights is a non-partisan gun rights advocacy organization that was founded in early 2018. It has quickly become Colorado's most active Second Amendment group with a focus on frontline activism and community outreach.