A level of justice has been done in this case, but New York enforcers and prosecutors will continue acting like the sword is reserved for them.
U.S.A. – -(Ammoland.com)-All gun charges against a New York man have been dismissed, the County of Westchester Court ordered Jan. 18. Judge George E. Fufidio dismissed the charges pursuant to a motion by the prosecution following a December order that concluded a Colorado concealed handgun permit was insufficient justification for police to search defendant Jonathan Rose's car during a traffic stop. Because of that, all evidence alleged to have been obtained was ordered suppressed.
The order dismisses nine charges against Rose, including "class C violent felonies of Criminal Possession of a Weapon in the Second Degree (two counts), Criminal Possession of a Weapon in the Third Degree (three counts) [and] Criminal Possession of a Weapon in the Fourth Degree (four counts)."
Rose, as AmmoLand Shooting Sports News reported last month, had recently moved to New York and inadvertently handed over "a valid Grand County Colorado concealed handgun permit" along with "a valid Colorado driver's license [and] a valid New York identification card" while looking for his vehicle registration after being pulled over for a missing front license plate. As further reported, Judge Fufidio found that sworn testimony of arresting Rye City Police officers was not borne out by police video camera and microphone evidence, and a recording from Rose's cell phone.
As this column pointed out, Westchester County Assistant District Attorney Kevin Jones also made a significant misrepresentation of the facts in his Affirmation in Opposition to Rose's motions. That, along with police testimony that misstated what was documented in the arrest record transcript, made it appear that the defendant was the one playing fast and loose with the truth, instead of his accusers and the prosecutor.
The motion to dismiss acknowledges none of that, but instead cites "the People are unable to sustain their burden to prove this matter beyond a reasonable doubt" due to the evidence suppression order.
The dismissal and sealing of the matter are a vindication for Rose. It will end a long, expensive and terrifying ordeal that could have separated him from his children for years and rendered him a "prohibited person," forever barred from "legally" owning a gun. It also helps refute some in the comments left under the last AmmoLand report denying official misconduct, and attacking the defendant and the reporting derived from court documents.
"Knowing your rights and protecting yourself is critical," Rose tells AmmoLand Shooting Sports News. "I can't stress the importance of video to keep people honest. Without it I would be in jail for the next 15 years and my children would have been fatherless"
See order of dismissal at https://www.scribd.com/document/398075352/Jonathan-Rose-Order-of-Dismissal
---
About David Codrea: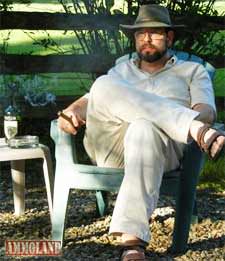 David Codrea is the winner of multiple journalist awards for investigating / defending the RKBA and a long-time gun owner rights advocate who defiantly challenges the folly of citizen disarmament.
He blogs at "The War on Guns: Notes from the Resistance," is a regular featured contributor to Firearms News, and posts on Twitter: @dcodrea and Facebook.